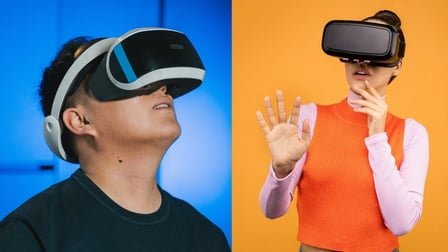 Metaverse Fundamentals: The Complete Metaverse Course
MP4 | Video: h264, 1280x720 | Audio: AAC, 44.1 KHz
Language: English | Size: 1.35 GB | Duration: 1h 31m

Metaverse Fundamentals: The Complete Metaverse Course
In this class, Metaverse Fundamentals: The Complete Metaverse Course, we discussed the sublime world of the metaverse and how it will change our experiences.
What is the metaverse? Simply put, the metaverse is an online, 3D, virtual space that we can collaborate. Just like the universe, we will interact socially in the metaverse. The key difference between the universe and the metaverse is that the latter is virtual and digital while the former is physical and earthly.
In the metaverse, we will be able to replicate our usual human, physical activities in a digital setting. Take it to be a world that is built by humans for humans.
In the metaverse, we will set the rules for this new world. We will be represented as living 3D avatars with our houses, properties, and other content designated as non-fungible tokens (NFTs) on the blockchain. Also, you can pick your colour, size, shape, clothes, etc. in these virtual settings. Imagine you are tall in our physical world setting but you prefer to be short, you can do this in the metaverse.
In this class, we expatiated on the marvellous work that is currently being done by tech giant companies to create the Metaverse. The Meta Platforms is well known for rebranding her name from Facebook, Oculus headset and VR messaging. Microsoft has created Mesh for Teams and virtual avatars to enhance smooth work transitions in virtual offices. Google is working tirelessly on augmented reality (AR) to connect the digital and physical worlds. We equally explained the works done by Apple, Amazon, Nvidia, AMD, etc. that will help to facilitate various aspects of the Metaverse.
Decentraland, The Sandbox and Axie Infinity are immensely popular cryptocurrency projects that are leading changes in the metaverse. These projects have redefined the gaming industry forever, by listing their games on the blockchain. They have introduced a new concept called GAMEFI that enables players to earn while they participate in the gaming ecosystem. In these games, you can own LANDS and create non-fungible ASSETS that can be sold on NFT marketplaces. So, you don't just play a game for entertainment, you can equally be paid for winning games.
This class is a complete guide on the Metaverse, and you will learn a lot including
1. Comprehend the Metaverse
2. Be exposed to superb metaverse projects executed by tech giants like Apple, Meta, Amazon, etc.
3. Learn the best metaverse stocks, ETFs and crypto investments
4. Become familiar with Decentralnd, Axie Infinity and The Sandbox and their native cryptocurrencies
5. Learn about NFT GAMES, LANDS, and ASSETS.
6. Get expertise in blockchain and blockchain projects.
7. Understand Smooth Love Potion (SLP) and its significance for Axies breeding
[quote]https://rapidgator.net/file/9d6e37721c358eb4fd35207a01c47c3e/Metaverse_Fundamentals_The_Complete_Metaverse_Course.part1.rar.html
https://rapidgator.net/file/fa6b33d2142b...2.rar.html
https://uploadgig.com/file/download/75ab....part1.rar
https://uploadgig.com/file/download/0a1d....part2.rar
[/code]