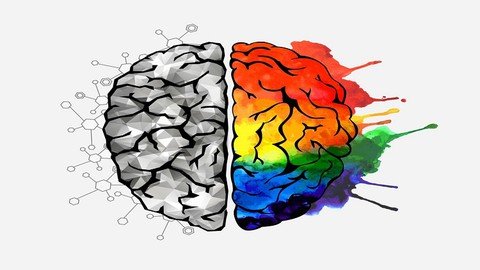 Principles of Psychology
MP4 | Video: h264, 1280x720 | Audio: AAC, 44.1 KHz
Language: English | Size: 626 MB | Duration: 57m
Crucial base needed to understand how an individual's mindset is impacted by various aspects.
What you'll learn
Explain the Biological Foundation of Psychology
Explain the Pros and Cons of Biopsychology
Explain How Brain Lateralization Influences Behavior
Explain How to Overcome Single Hemisphere Dominance
Requirements
No prior knowledge is required
Description
The biological perspective or foundation or 'Biopsychology' is a latest development in the field of psychology which has acquired increasing importance as a specialized branch of psychology in recent times. This branch of psychology is also known by different names like Psychobiology, Biological Psychology, Behavioral Neuroscience and Physiological Psychology. The biological psychology attempts to analyze the relationship between physiological or biological processes on the behavior or psychological processes. This specialized branch of psychology studies how our brain or the neurotransmitters and other biological parameters influence our psychology and behavior, feelings as well as thoughts.
Bio-psychologists pay attention to understanding how various biological factors or parameters influence our mental processes, emotions, and cognitive functioning. Bio-psychologists attempt to relate the psychological or behavioral variables with the biological, genetic or physiological variables. Bio-psychologists key area of focus is on understanding the functioning of brain for understanding behavior, since central nervous system controls or influences human behavior. The major areas of focus perception and sensation, memory and learning, movement control, motivated behaviors for obtaining food, clothing and shelter, human emotions, biological rhythm, and sleep.
With the advancements in technology and in research techniques, various advanced issues such as decision making, reasoning, language and consciousness, are now considered to be the focus areas of investigation. Biopsychology as a specialized discipline gained its importance during 18th and 19th centuries. Eminent philosopher Rene Descartes propounded the physical model for explaining the behavior of animals and humans. According to him, the Pineal gland which exists in the brain of many organisms is the point of connection between body and brain. Descartes was also responsible for introducing the concept of reflexes which led to muscle responses, though this was later denied by the researchers with an argument that spinal cord is responsible for muscular responses.
The relationship between psychology and physiology has been under investigation since many years ago. It was Charles Darwin who introduced the idea that genes and evolution influence behavior. The biological perspective analyzes human issues and actions.
Who this course is for
Students
Entrepreneurs
Working professionals
Management personnel
Supervisors and Managers
[quote]https://rapidgator.net/file/866051e19cb0d1a3f593446e9869d392/Principles_of_Psychology.rar.html
Hidden Content:
You must reply to see this link Or Upgrade Your Account
[/code]