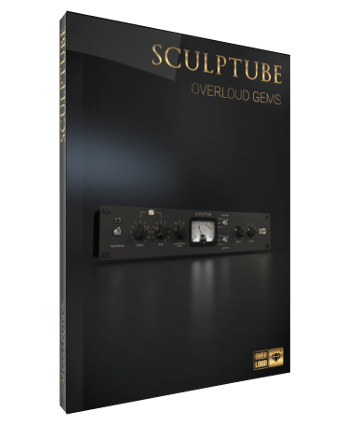 Overloud Gem Sculptube 1.0.3
File size: 194 MB
Sculptube is a processor dedicated to adding valve-produced harmonics to sounds. It creates an authentic tube coloration which goes from slightly warmed-up tones to heavy distortions.Hyper-realistic simulation of tube warming/distortion, thanks to the 4th generation DSP technology
Triode and Pentode simulation
Tube biasing control
Built-in EQ and parallel processing to sculpt the tone
Low CPU usage: more than 1500 instances on a Macbook Pro Retina
Multilevel undo-redo
A/B Comparison
Scribble Strips: take notes anywhere on the plugin panel
Meter Calibration: calibrate the VU meters at 4 different sensibilities
3 TUBE CONFIGURATIONS AT YOUR FINGERTIPS
There are 3 settings for the type of distortion:
Program 0 (Triode) creates the typical musical effect found with triode valves, with very rich 2nd harmonic distortion, good for warming up a sound.
Program 1 (Pentode) creates a Pentode distortion, with prevailing odd harmonics, which makes the sound more aggressive while retaining that valve character.
Program 2 (Special) is obtained with a pretty unusual way of configuring the valve, which gives an extra octave at higher bias settings.
Platform: WiN32/64 - EXE/VST/VST3/AAX
[quote]https://rapidgator.net/file/90ba13aa92be899b8834a976491491c1/GemSculptube1.0.3..rar.html
https://uploadgig.com/file/download/f041...1.0.3..rar
[/code]